Locating a restaurant near the Colosseum where you can eat well, as well as other popular monuments in Rome can be tricky. There are various restaurants with spectacular views overlooking these beautiful monuments, however in most cases you will normally eat better at the restaurants located on the backstreets. Here is a list of 7 interesting places to eat near the Colosseum, worth considering.
Restaurants near the Colosseum
Luzzi Trattoria
Luzzi is one of the most popular restaurants located a few blocks from the Colosseum, with good prices and friendly staff. Roman-style pizza cooked in a wood oven, tasty pasta dishes and delicious salads make it an ideal place or all tastes and preferences. Luzzi can get quite busy around rush hour, so it's a good idea to reserve to avoid being disappointed.
Address: Via di S. Giovanni in Laterano, 88
Phone: +39 06 709 6332
Hours: Thu – Tue 12:00 pm – 12:00 am
A local favorite pizzeria, offering thin, crispy, Roman style pizza, situated in between the Colosseum and Basilica of San Clemente. We sugest also trying the fried antipasti especially the suppli.
Address: Via Santi Quattro, 24
Phone: +39 06 7045 0605
Hours: Open for dinner only. Closed Thursday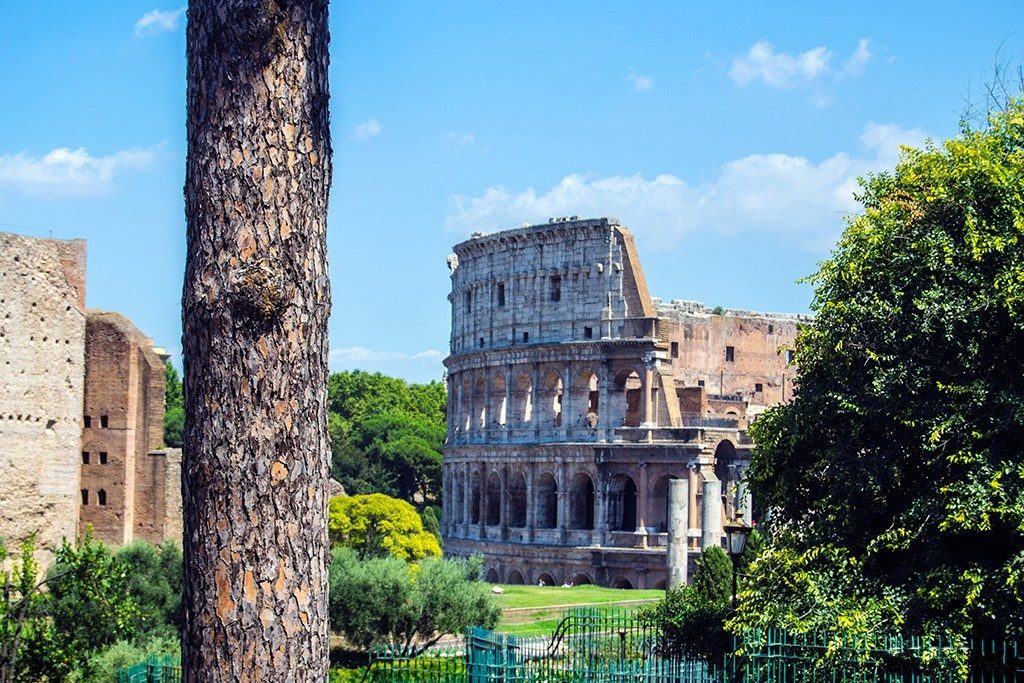 Café Café is a lovely little restaurant open throughout the day, providing an ideal place to relax after your Colosseum visit. The atmosphere is casual and comfortable, offering a wide range of delicious things to eat and drink including over 40 types of tea, fresh fruit smoothies, as well as a wide range of sweet and savory dishes.
Address: Via Santi Quattro, 44
Phone: +39 06 700 8743
Hours:  9:30 a.m – 11:00 p.m. (Monday closes at 4:00 p.m)
Pasta Chef is a small pasta restaurant located a 10 minute walk from the Colosseum. It is situated in the beautiful neighborhood of Monti, where you will find perfectly cooked al dente homemade pasta. Pasta Chef is not a fancy restaurant, with limited seating and paper plates, however friendly service, good prices and 7 to 8 types of delicious cooked to order pasta and fresh salad.
Address: Via Baccina, 42
Phone: +39 06 488 3198
Hours:  12:30 p.m – 9:30 p.m. (closed Sundays)
Pane & Vino is a fantastic little sandwich shop, a stones throw from the Colosseum. The owner named Fabio is very friendly, helpful and entertaining, with a passion for languages offering wonderful customer service. As well as delicious meat and vegetarian sandwiches, he also offers gluten free and vegan options.
Address: Via Santi Quattro, 44
Phone: +39 06 700 8743
Hours:  9:30 a.m – 11:00 p.m. (Monday closes at 4:00 p.m)
Taverna dei Quaranta is a family owned restaurant, located on a side street of the Colosseum, offering authentic Roman cuisine. Friendly service, honest prices, delicious food and a good atmosphere offers a great option for a post Colosseum meal.
Address: Via Claudia, 24
Phone: +39 06 700 0550
Hours:  12:00 a.m – 11:30 p.m.
Located in the pretty neighborhood of Monti, is the artisanal gelateria Fatamorgana, kmown to be one of the best in the city. Pick you favorite from over 50 light, airey and delicious flavors.
Address: Via degli Zingari, 5
Phone: +39 06 4890 6955
Hours:  12:00 a.m – 01:00 a.m.