Your introduction to Italian cuisine, begins with breakfast at La Pasticceria Siciliana. Enjoy a fresh cannolo made in front of you, while sipping on a cappuccino.
Next enjoy the best pizza in Rome at the legendary Pizzarium, recommended by Anthony Bourdain and countless bloggers. Famed baker Gabriele Bonci known as the 'Michelangelo of pizza,' creates more than 80 variations each day. Daily toppings are impossible to predict, but expect to find the highest quality, in season produce. Favorites include the Potato and Mozzarella and the fig with prosciutto.
Following Pizzarium, visit Paciotti the number one gourmet food shop in Rome. Paciotti offers hundreds of types of cheeses and meats, aged balsamic vinegars, olive oils and other treats. Cheese tastings include Parmigano Reggiano with 30 year aged balsamic, Gorgonzola Dolce and Pecorino Romano complimented with truffles.  Sample some of the finest prosciutti, including Parma, Joselito and Cinta Senese. A glass of wine will be offered to you by Stefano Paciotti, whose favorite quote is 'no wine, no party.'
Nothing puts you more in touch with the Roman culture than the Trionfale market, with its captivating characters, colors and sounds. Meet the families running these stalls and learn how to shop like a local. Sample juicy buffalo mozzarella, melanzane parmigiana and porchetta. The Italian wine labeling system is demystified, with natural wine tastings from vineyards across the country.
Following the market, savor two types of homemade pasta and Calamari from Al Giardino del Gatto e la Volpe. Enjoy ravioli filled with spinach and ricotta cheese, Gnocchi with four cheeses and D.O.C.G Vermentino wine.
The tour ends at an artisanal gelateria called Fatamorgana. Learn how to tell the difference between real and fake gelato, with over 60 flavors to choose from, all made with 100% natural ingredients.
Throughout the tour receive essential food tips of the city, to ensure your enjoyment of Rome's best foods, will not end with our tour.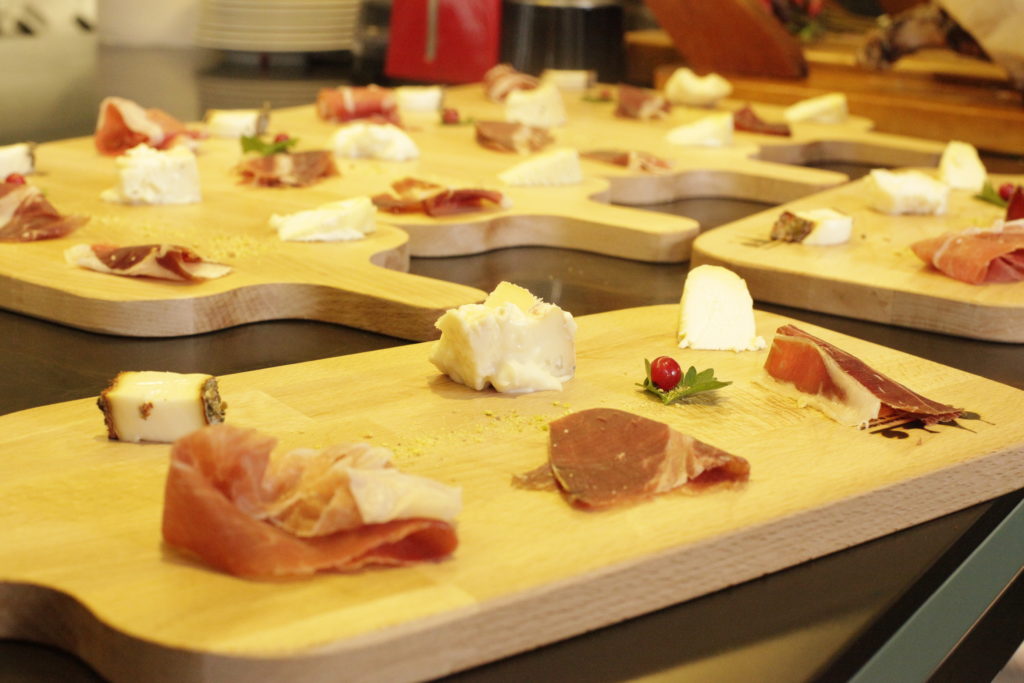 Taste of Trionfale
Departs: Mon-Sat 10:30am Duration: 4 hours
Over 20 Food and wine tastings
TOUR HIGHLIGHTS INCLUDE
Enjoy a typical Sicilian breakfast at Pasticceria Siciliana
Feel like a local exploring the Trionfale market, with numerous tastings throughout
Experience the best pizza in Rome from Pizzarium
Taste the best cheeses, prosciuttos, truffles and wine Italy has to offer at Paciotti
30 year aged balsamic vinegar drizzled onto Pamigiano Reggiano
Homemade pasta dishes with D.O.C.G wine at a local favorite restaurant
Try the typical Rome street food suppli, (a fried risotto ball)
Enjoy artisinal gelato from the Fatamorgana gelateria
Substitutions for dietary restrictions available upon request
INCLUSIONS
SCHEDULE
The price includes over 20 food & wine tastings, a bottle of water and an expert English-speaking guide.
The tours take place run regardless of weather conditions. Umbrellas provided should it rain. This tour does not run on Sundays and national holidays (see calendar)
WHAT TO BRING
A healthy appetite
Comfortable walking shoes
High expectations
The tour takes place Monday – Saturday at 10:30 am, in the neighborhood of Prati, located close to the Vatican City. The meeting point is the Cipro Metro / Underground stop. As you come out of the metro you will come out into a square, which a popular meeting point. If you arrive to Cipro by taxi or bus, you need to walk down the staircase from the high street. Your guide will be holding a sign saying 'The Roman Food Tour'.
The tour ends near to the Ottaviano metro. Our guides can point you in the right direction of the taxi stand or metro.
Group sizes are small and intimate to make sure that our guests receive a personal experience.