How to find the best Proscuitto in Italy
Italy is famous for its beloved prosciutto, which come in two forms: crudo meaning raw and cotto meaning cooked.  The word prosciutto means to dry out the moisture which is one of the first steps in making the ham. The elimination of the moisture also allows the meat to having a longer shelf time, even when served at room temperature.
The history of cured ham, dates back to pre-Roman times, and the traditional methods of production are still carried out these days. Firstly, trimming the ham, made from the rear haunches of skin and fat. Then the legs of the pigs are sqeezed to remove the moisture, then covered with salt and left for a few months. They are then rinsed and hung to dry, in a well ventilated cool room, a procedure known as curing. Typically the curing process takes a few years, with the finer hams taking longer to cure.
The story of Prosciutto is all about the story of pigs, as it takes the best pigs eating the right foods in order to produce the perfect ham. Every region in Italy that has pigs, produces a type of Prosciutto but only a few are available outside of Italy. The price can change greatly depending on the type and the maturity age. Each type of prosciutto has it's own flavours which make it unique and different in deliciousness. The most famous types of prosciutto include parma in Emilia-Romagna, San Daniele in Friuli Venezia Giulia and Cinta Senese from Tuscany.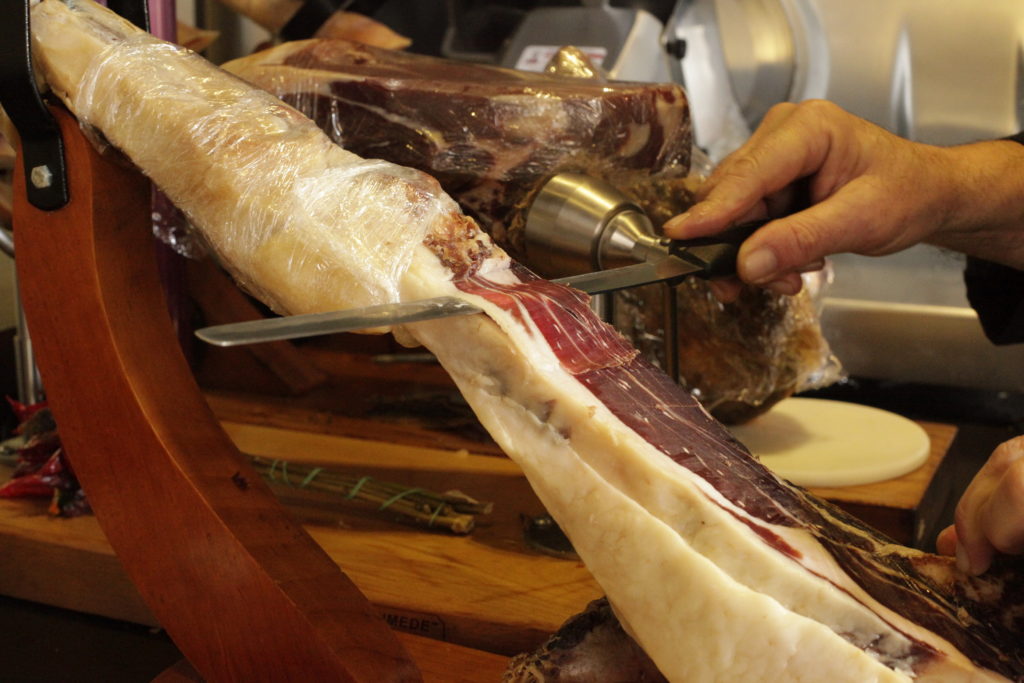 Both Parma and San Daniele hams are considered sweet prosciutto, as apposed to the tuscan ones which are saltier. The unique taste from prosciutto di Parma, is from locally raised pigs which are fed a strict diet that includes whey from locally made Parmigiano-Reggiano cheese. The prosciutto di San Daniele is darker and has a more delicate flavour. It uses local sea salt in sparse amounts and stacks the hams on top of each other. Prosciutto Toscano of Tuscany is a savory ham accompanied with pepper, garlic, rosemary and juniper.
When  choosing a prosciutto, it is important to look for the DOP or in english PDO (Protected Designations of Origin). The DOP stamp guarantees that the prosciutto is made from the healthiest pigs. It also ensures a natural curing process, without the use of  colouring or additives like nitrates, which are used to enhance the colour of the prosciutto. Also be sure to get you prosciutto cut from the leg, rather than buy it pre-sliced,, to ensure maximum taste and freshness. The ideal way to eat prosciutto is straight out of the paper it i sliced it into. Alternatively pairing it with slices of melon, mozzarella di bufala or some fresh figs.
The best place to purchase prosciutto is Rome is the legendary delicatessen, La Tradizione, voted in the top 10 food shops in the world. La tradizione offers over 150 types of meats as well as 300 types of cheeses and the finest olive oils and balsamic vinegars. Alternatively, choose one of the food tours in Rome.. preferably The Roman Food Tour