Great ways to save money while visiting Rome
Aperitivo's in Rome
A fanatstic and easy way to save money in Rome is by taking advantage of aperitivo, which is basically happy hour with free food. Most bars and cafes  will offer a buffet of free food from 6pm – 9 pm, with the purchase of a drink.
Some bars offer  basic snacks including chips, olives and nuts,  but others offer a huge selection of mouth-watering canapés, including pizza, pasta, cous cous, salads, salamis, cheeses,   various pates and cured meats,   omlettes, quiches and more.
Supermarket
An easy way to save money is to look for supermarkets, local markets or grocery stores, to purchase refreshments.  Most close at 8 PM on weekdays and 4 pm on Sundays. A convenient centrally located supermarket open late on Sundays and until 10pm on weekdays, is the Despar supermarket situated between the Pantheon and Piazza Navona. Via dei Giustiniani, 19
Standing at cafes
In bars and cafès, table-service prices are generally at least double what you pay if you stand at the bar. Do as the locals do, drink your coffee or eat your sandwich standing by the bar.
Tipping in Rome
There is a different tipping culture from North America and Italy. Locals generally  just round up o the bill rather than add 10 – 20 %. Italian restaurants usually have an unavoidable pane e coperto (bread and cover charge) costing upwards of €2 per person which is added automaticallyto the bill.
Be sure to find out if the service charge is included. If  you see on the menu servizio incluso, this means the tip is automatically included in the price.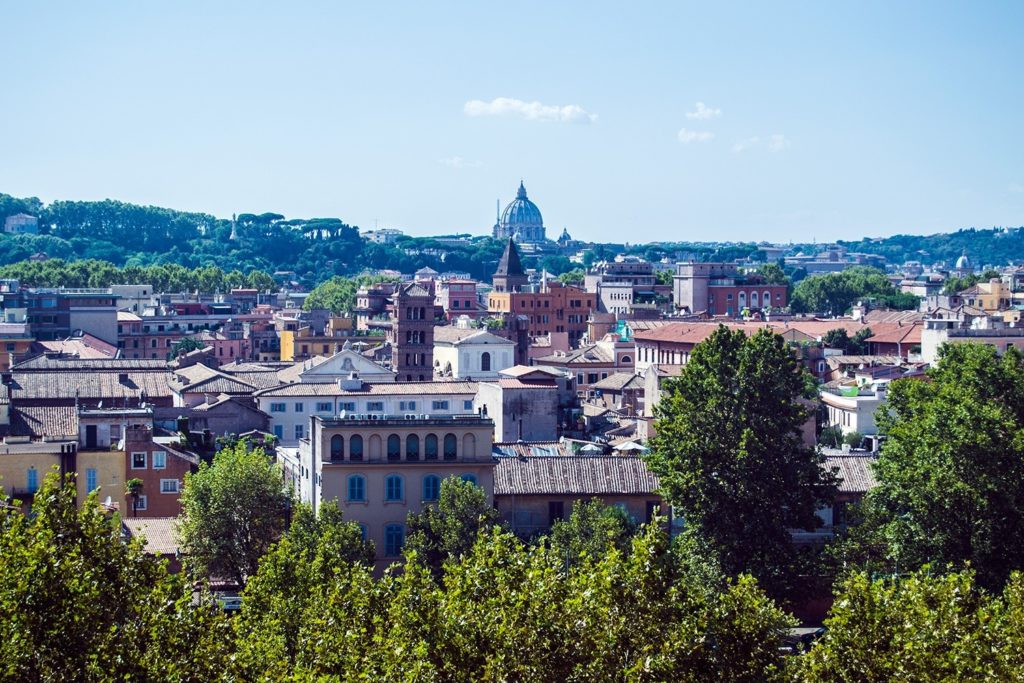 Water fountains
You will notice there are water fountains scattered all over the city. The Water is good drinking water coming from the appenine mountains. Buy one bottle or bring your own flasks to fill up, and save on continually purchasing pricey bottled water.
Piazza Navona
Piazza Navona is abeautiful place to sit, eat and people watch, but be aware the restaurants in Piazza Navona are expensive. To enjoy the square without spending a fortune, purchase a gelato from a gelatria outside the square and sit on one of the benches or fountains like the locals do. 

Buying a travel card
Avoid expensive taxis and make the most of public transport, with a travel card. BIT "Biglietto Turistico Integrato is a 3 day ticket. CIS "Carta integrata settimanale is a weekly one. Both BIT and CIS, allow unlimited rides on buses, subways and some local trains. Tickets can be purchased in tobacconists.
Avoiding pick pockets in Rome
Rome like any major city, has its fair share of pickpockets. In rome they are mostly immigrants, often woman holding babies. Take extra care at the Termini train station and at busy underground stations, as well ticket lines to get into popular destinations.
Avoid Termini station late at night, as there are usually undesirable people lurking around, therefore  it is advisable to use the Republicca metro stop instead
The VAT Refund
In most countries there is a minimum amount needed to be spent in order to qualify for a VAT refund and currently. In Italy, the minimum purchase is €155. When making your purchase at the store,  collect the necessary documents needed, as just a receipt will not be sufficient. You will have to present your passport and  the vendor fills out a cheque, which is your refund document.
Refund Offices in Rome
Rome Fiumicino Airport – Terminal C – Check-in
Rome Fiumicino Airport – Satellite Gate C20 – Departures
ROME Fiumicino Airport – Terminal C – Departures
SPAGNA – Piazza di Spagna,38 – Mon – Fri 9am – 5:30pm, Sat 9am – 12:30am
VENETO – Via Lazio, 10 – Mon –  Fri 9:30am – 7pm,  Sat 9:30am – 1pm