Looking for the best places to go shopping in Rome?
Shopping in Rome is great, whether you're looking for great souvenirs, designer clothing or the perfect gift, Rome offers a variety of shopping options. From the high street names on Via del Corso, the high-end brands on Via del Condotti and the quirky boutiques around Trastevere, each of Rome's shopping areas provide a colorful and distinctive personality.
Where are the best neighborhoods for shopping in Rome?
The most famous names in Italian fashion are located around the Spanish Steps area. The main shopping street located directly in front of the Steps, is called Via del Condotti. Nestled in between all the high-end stores, is Antico Caffe Greco, the oldest café in Rome. Click here for more fantastic cafes in Rome.
There is also a local favorite Tiramisu venue called Pompi, located on Via della Croce. The side-streets around Piazza Navona and the Pantheon, also offer lots of fun and interesting options.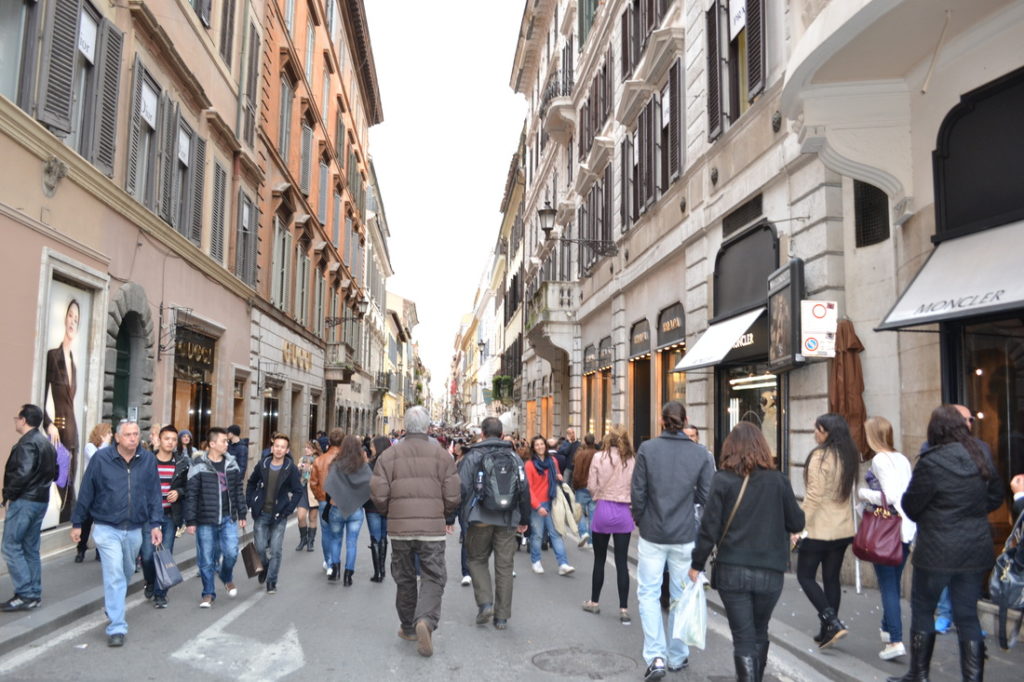 Rome's largest shopping street is called Via del Corso, running from Piazza Venezia to Piazza del Popolo.  Here you will find a complete range of clothing stores as well as food outlets and souvenir stores. Half way on Via del Corso, there is a beautiful little mall called Galleria Alberto Sordi. Directly outside the mall, is the spectalular Colomn of Marcus Aurelius built in 193 AD, displaying his military campaigns. Another popular shopping street, similar to Via del Corso but less touristic, is Via Cola di Rienzo located close to the Vatican City.
Two of the prettiest neighborhoods in Rome include Trastevere and Monti. Both offer charming cobblestone streets, with clothing lines strung between the ivy-coated buildings. There are plenty of vintage stores, cute cafes, cool bars and antique shops, as well as lovely streets to get lost walking around. For more information of neigborhoods in Rome click here.
In the neighborhood of Trastevere, the outside food market located in Piazza san Cosimato, is great for delicious fresh food and people watching. Other larger popular food markets include Testaccio, Trionfale, as well as the Eataly food mall located by the Piramide metro station. For more information on food markets in Rome.
Piazza Santa Maria also in Trastevere and Piazza della Madonna dei Monti, in neighborhood of Monti, are popular places for locals to catch up with a drink in the evening.
The sales in Rome occur twice per year, once in summer and once in the winter. The winter sales begin early January and runs until late February. The summer sales start early July and finish towards the end of August.
Alternatively if you are looking for a complete culinary experience, The Roman Food Tour offers daily food tours, both day and evening.